​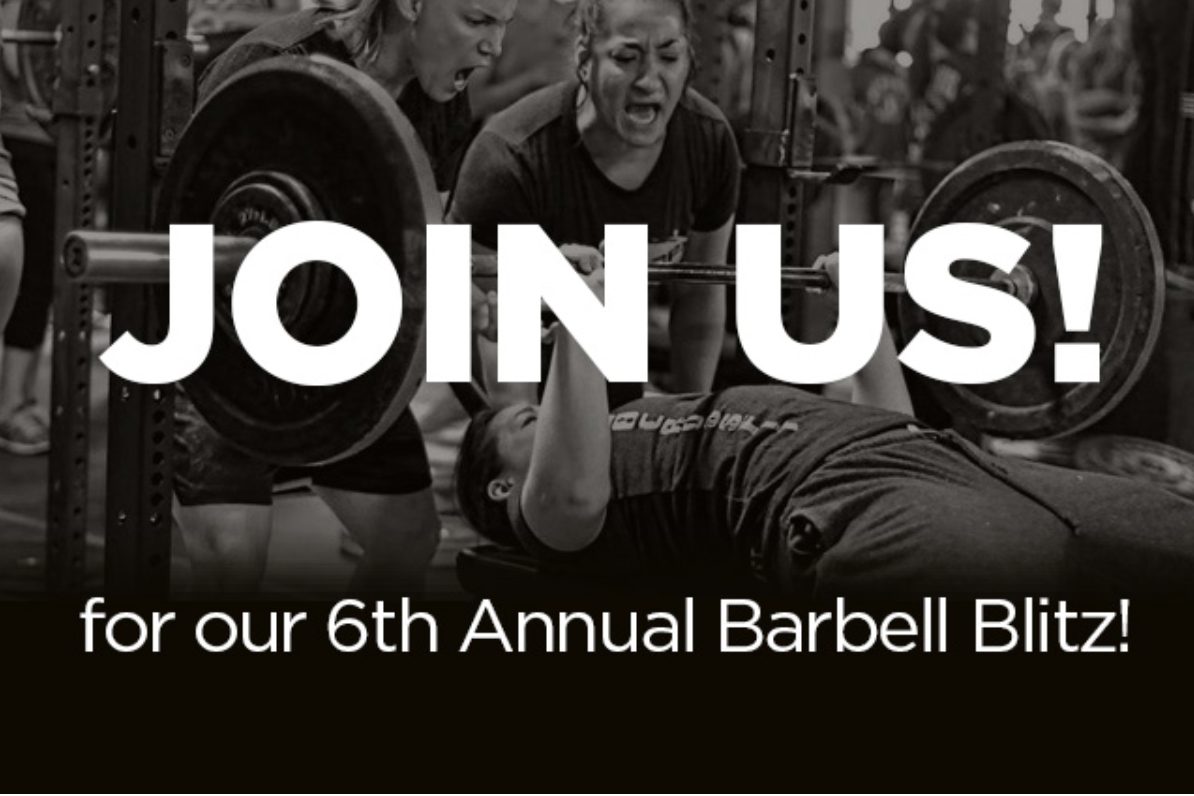 ​
            *For up to date announcements and reminders, please join our members only facebook groups: 
             Click Here to Join the CrossFit Facebook Group 
            Click Here to Join the Bootcamp Facebook Group​
Our new referral program has launched! Add $25 in rewards points to your account every time you refer someone to us. You can use these rewards points towards any retail purchases including all food and drink beverages and any apparel items that are on the disply or on pre-order. 

YOU MUST SUBMIT YOUR REFERRALS TO US TO GET THE CREDIT – CLICK HERE TO SUBMIT YOUR REFERRAL (REFERRALS AS OF DECEMBER 1st) 
BARBELL BLITZ – JANUARY 26th (NOVICE) & JANUARY 27th (RX) 
            *Need help finding a team??? Click here to put your name on a list and Emily will help to find you one!
REMINDER: YOGA WILL BE ON SUNDAY AT NOON!!!! $5 FOR MEMBERS AND $10 FOR NON-MEMBERS.
Strength
9 Minute EMOM: 
1st 3 Minutes – 2 Overhead Squats at 75% of Overhead Squat Max
2nd 3 Minutes – 4 Split Jerks at same weight 
3rd 3 minutes – 6 Front Squats at same weight 
Conditioning
Teams of 2: 
Rx: 
50 Pull-Ups ADV (15 Muscle Ups) MOD (Ring Rows) 
50 Double Unders MOD (100 Single Unders) 
50 Overhead Lunges (75/55#) ADV (115/75#) MOD (55/35# or less Front Rack Lunges
40 Pull-Ups ADV (12 Muscle Ups) MOD (Ring Rows) 
40 Double Unders MOD (100 Single Unders) 
40 Overhead Lunges (75/55#) ADV (115/75#) MOD (55/35# or less Front Rack Lunges
30 Pull-Ups ADV (9 Muscl Ups) MOD (Ring Rows) 
30 Double Unders MOD (100 Single Unders) 
30 Overhead Lunges (75/55#) ADV (115/75#) MOD (55/35# or less Front Rack Lunges
20 Pull-Ups ADV (6 Muscle Ups) MOD (Ring Rows) 
20 Double Unders MOD (100 Single Unders) 
20 Overhead Lunges (75/55#) ADV (115/75#) MOD (55/35# or less Front Rack Lunges
10 Pull-Ups ADV (2 Muscle Ups) MOD (Ring Rows) 
10 Double Unders MOD (100 Single Unders) 
10 Overhead Lunges (75/55#) ADV (115/75#) MOD (55/35# or less Front Rack Lunges