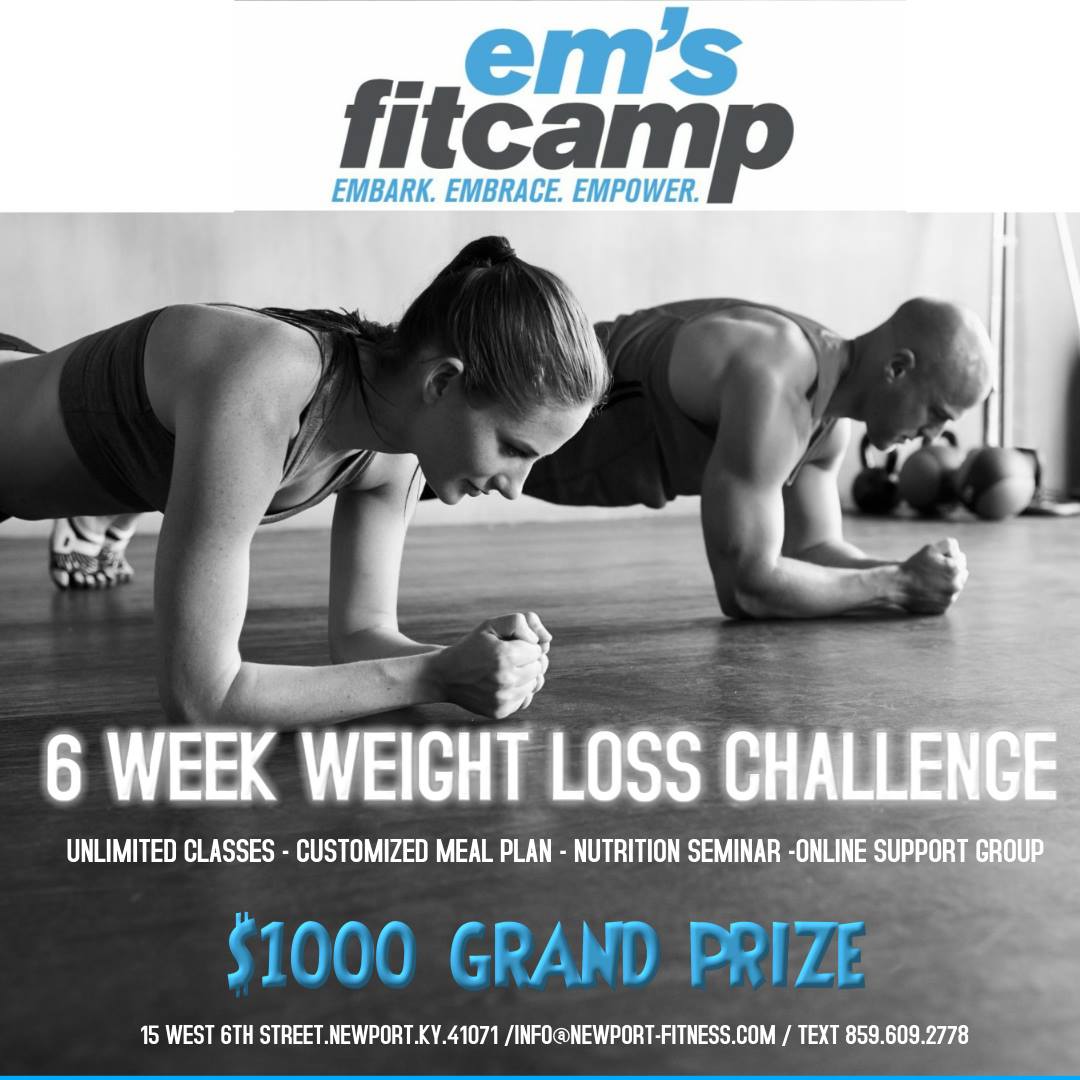 Our Next 6 Week Weight Loss Challenge starts on 11/5.
The program includes:
6 Weeks of Unlimited Em's Fitcamp and Beginner CrossFit Classes. We offer over 7 classes per day.  PLUS 2 BONUS WEEKS!! Final weigh-in will be mid December, but you can attend class through December 31st.
Customized meal plan with 6 full weeks of suggested meals.
2 Hour Nutrition Seminar where we teach you how to eat healthy
An online support group to help answer any questions you may have and to keep you motivated throughout the program.
Winner wins $1000!
What is the Cost? 
$200 as a single registration
$300 for a pair ($150 each)
If you are on a current CrossFit member and you make a NEW referral, you will received $50.00 off you next month's membership for every new referral (not eligible if you are receiving the couples/pair pricing). Also if you are a current member and you want to participate in the challenge yourself, you can add the challenge for $50.00. Click here to sign up!
Also, if you are on a CrossFit contract and you refer a NEW member to the challenge, Click here for more information and to sign up!
REMINDER: YOGA IS CANCELLED UNTIL FURTHER NOTICE
To join our Facebook group, click here. 
REFERRAL REWARDS: For every member that you refer and purchases a special, you earn $25 in NewCov Rewards! To get credit for your referral, CLICK HERE (Must have been referred 12/1/17 or after) 

TEXTING SERVICE: For notifications, reminders and links to the newsletters, text  NEWCOV to 64600. We have switched to a new texting service so you may need to opt-in again.

NOVEMBER SOCIAL EVENT:  Thanksgiving Potluck at Flying Axes on November 10th at 6 p.m. Click here to RSVP and for more information. 
6TH ANNUAL GOBBLERS & GOBBLETTES COMPETITION: "Every Second Counts"
Strength
Close Grip Bench Press
4×10
(Build each set)
Conditioning
EMOM 10
1. 15 Burpees (Scale if needed)
2. 10 Box Jumps
Rest 1 Minute
EMOM 10
1. 5 DAWG Complex
2. 40 Double Unders